| | |
| --- | --- |
| 1 pkg. | Mashed Potato "Engel – Meine Heimatküche" |
| 200 ml | water |
| 200 ml | soy milk |
| 1 can | chickpeas |
| 4 T. | sesame paste |
| 1 tsp | lemon juice |
| 1 tsp | cumin |
| 2 tsp | paprika powder |
| 4 | garlic cloves |
| | salt |
| 3 T. | flat parsley |
| 2 T. | olive oil |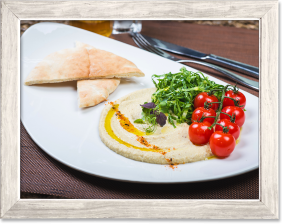 Hummus
Prepare the mashed potato in compliance with packaging information and put it aside.
Put chickpeas into a bowl. Add sesame paste, lemon juice, garlic cloves and puree it afterwards.
Put the chickpeas to the mashed potato, add olive oil and stir it. Season with cumin, paprika and salt. Fold in the flat parsley. Your dish is ready to serve!
Hint: It is best served with pita bread, grilled vegetables or salad.